Delavan's Scarecrow Fest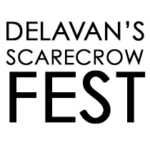 Delavan's Scarecrow Fest is a Delavan tradition. Downtown Delavan will host the 19th Annual Scarecrow Fest on Saturday, Sept.
14 from 9 a.m.- 9 p.m. The festival includes: music; flea market; craft show; animal petting zoo; duck raffle; build-a-scarecrow activity; food; face painting; pumpkin decorating; sales; scarecrows on parade; and more. For information, call 262-728-8670. Like Delavan's Downtown Business Association and the Delavan Historic Foundation on Facebook.